Who Are These Aliens
and
What Do They Look Like?
Click here to find out
Through the years we have asked many questions
about the truths and myths
surrounding the birth and life of Jesus The Christ.
Click on a link below to see the answers
that Monn and Lea our alien contacts gave.
Remembering The Reason For The Season
Christmas Questions
---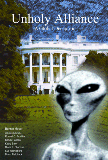 Messages from the book
Unholy Alliance by Bonnie Meyer:
---

Lea's Perspective
Lea tends to specialize in Biblical commentary.
Here are some of the topics she's covered:

Introduction | Newsroom | Upcoming UFO Events
Books and Resources | More About Us | Contact Us
E.A.R.S. | Links