UFO Daze History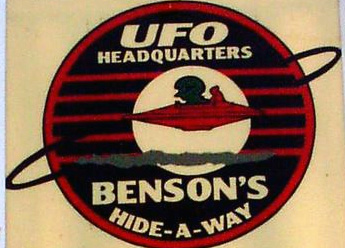 Click here to see a May 12, 2008 Fond du Lac Reporter article on UFO Daze.
---
UFO Daze has been around now for quite a while. There's always good discussion about UFOs but sometimes a UFO actually shows up.
The Lightside UFO Study Group has documented a number of their eyewitness reports.
From the pyramid in 2000 to the spectacular craft in 2004.
Click here to see their collection of UFO Daze Accounts
Many of which include drawings of what they witnessed
---
Here are some UFO reports from past UFO Daze as compiled by
UFO Wisconsin:
July 16, 2005
An interesting report from an anonymous witness
Did I mention that there's always great food too?
Pizza and burgers and cheese nuggets...
Click here to see the 2004 menu, for example
Sheboygan Press article on UFO Daze 2003
July 20, 2002
UFO Daze 2002 brought us UFO Reports from a whole bunch of people:
Jenny H.
Casey H.
Bill B.
Ken P.
anonymous
Russ B.
Jim A.
The National UFO Reporting Center
anonymous 2
Wendy K.
Here's some video of what they saw in 2002:

Jack S.reported a UFO the night before from Benson's Campground as he sat in front of the campfire anticipating UFO Daze. That reminds me, the night before UFO Daze can also be a lot of fun as many UFO enthusiasts camp Friday night and begin the UFO discussion at the campground.

Tim K. even reported a UFO in Dundee a few days after UFO Daze.
2002 UFO Daze Page - from UFO Wisconsin - Includes video
Andrew J. Kovaleski's 2002 UFO Daze Photos
UFO Wisconsin's 2002 UFO Photo Collection
July 21, 2001
Multiple witnesses give their accounts in this report:
UFO Daze 2001 Witness File

July 15, 2000
Multiple witnesses reported a pyramid shaped object over the lake during UFO Daze 2000:
UFO Daze 2000 Witness File

UFOs? Area man says 'they're back'
1993 News Article on Benson's Hideaway

Excerpt transcribed from Searching for UFOs which aired on The Learning Channel

On September 15, 1998 fighter jets chased a UFO over Long Lake

September 1975 UFO Report from Dundee

A brief 1995 Crop Circle report from the W-Files
This circle was actually in the reeds ON Long Lake
Bill Benson has pictures at Benson's Hideaway
And can tell you a lot more in person


UFO Daze - Saturday, July 16, 2011

Benson's Hideaway
UFO Headquarters
N4241 Boy Scout Drive
Campbellsport, WI
(920) 533-8219

As always at UFO Daze, FREE ADMISSION!



---