Remembers
Judith F. Benson
September 13, 1946 - July 22, 2007
From the Fond du Lac Reporter
July 23, 2007
Judith F. Benson, 60, of Long Lake passed away Sunday, July 22, 2007, at St. Agnes Hospital in Fond du Lac.
She was born in Campbellsport, on Sept. 13, 1946, the daughter of Donald and Sylvia Zielieke Baumhardt.
On April 17, 1971, Judy married William Benson, III at Immanuel Ev. Lutheran Church in Campbellsport. They operated Benson's Campgrounds for a number of years and presently owned and operated Benson's Holiday Hide-A-Way Resort at the North end of Long Lake.
She was a member of Trinity Ev. Lutheran Church in Dundee. Judith was a member of the Turkey Federation, the Wisconsin Snowmobile Assoc., the Long Lake Fishing Club and the Wisconsin Assoc. of Campground Owners. She sponsored and bowled on a team at King Pin Lanes in Campbellsport. Judy greatly enjoyed spending time with her two granddaughters.
Survivors include her husband, Bill; her daughter, Jill Chapin, her son, William (Dawn) Benson, IV; her granddaughters, Kathryn and Gabryel; her step mother Marion Baumhardt of West Bend; her siblings, Patricia Wietor of Campbellsport, Susan (Stanley) Immel of Campbellsport, Roger (Diane) Baumhardt of Plymouth, David (Pat) Baumhardt of Kewaskum, Joan Baumhardt of Campbellsport, William (Elaine) Baumhardt of Campbellsport, Richard Baumhardt of Kewaskum, Ronald (Debbie) Baumhardt of Campbellsport, and Annette (Daniel) Sabish of Campbellsport; her brothers-in-law Loren (Nancy) Benson, and Charles (Cheryl) Benson both of Campbellsport; her uncle Robert (Lois) Baumhardt of Eden; nieces; nephews; relatives; and friends.
She was preceded in death by her parents; a brother-in-law Robert Wietor; and two nephews Scott Immel, and David Sabish.
Visitation: Visitation will be from 10 a.m. until the time of service, on Thursday, July 26, 2007, at Trinity Ev. Lutheran Church in Dundee.
Services: Funeral services will be held at 3 p.m. on Thursday, July 26, at Trinity Ev. Lutheran Church, Dundee. The Rev. Richard Schliewe will officiate, and burial will follow at Trinity Lutheran Cemetery.

Memorials may be directed to Trinity Ev. Lutheran Church or Waucousta Lutheran Grade School.

Twohig Funeral Home Campbellsport is serving the family. www.twohigfunerals.com
Judy Benson was a big part of all our lives.
She returned to God on the night of UFO Daze 2007.
This page is dedicated to memories we all had of Judy.
Personal Dedications
Kathy from The Lightside shared this wonderful powerpoint presentation that reminds her of Judy:

Diana from The Lightside created the following video memorial:

Jim and Diane write:
Our prayers go out to Bill. Judy was such a wonderful woman. It was truly an honor to have met her. We believe she is in a light filled place smiling down on us but still we will miss her.
It's strange at how times like this the things that we took for granted seem so much brighter in retrospect. The night of UFO Daze Diane remembers ordering a Sprecher Root Beer from Judy just before we enjoyed a wonderful black olive and sausage pizza right down on the edge of the lake. It was the perfect picnic. As we watched the night sky our comments included thoughts of doing this more often because the pizza was so excellent. Now, looking back, it was that much more special since that picnic was one of our last contributions from Judy.
We think Judy has taught us both to never take the little things for granted. They may be more special than we think at the time they are happening.

More to come...
---
Other Dedication Pages
Guestbook where you can post personal comments
The official Dundee sign: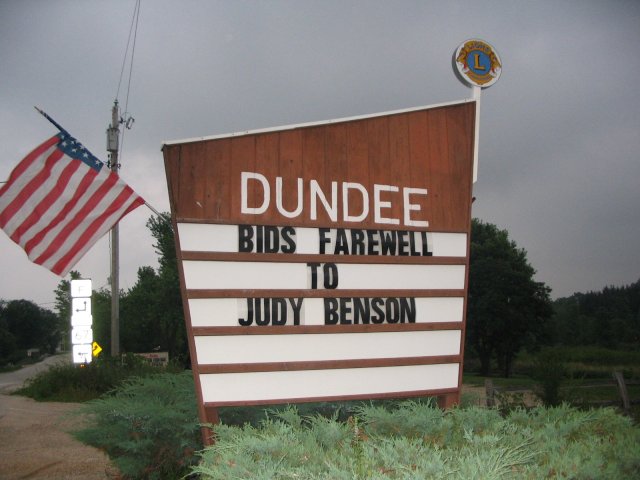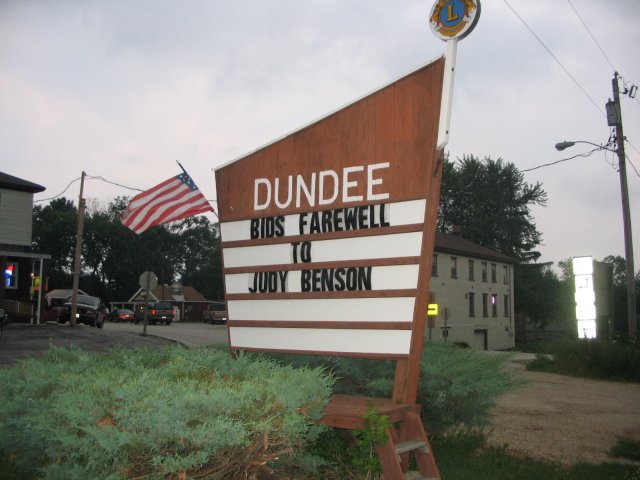 ---
Items from the funeral service held at Trinity Lutheran, Dundee, Wisconsin:
Memorium: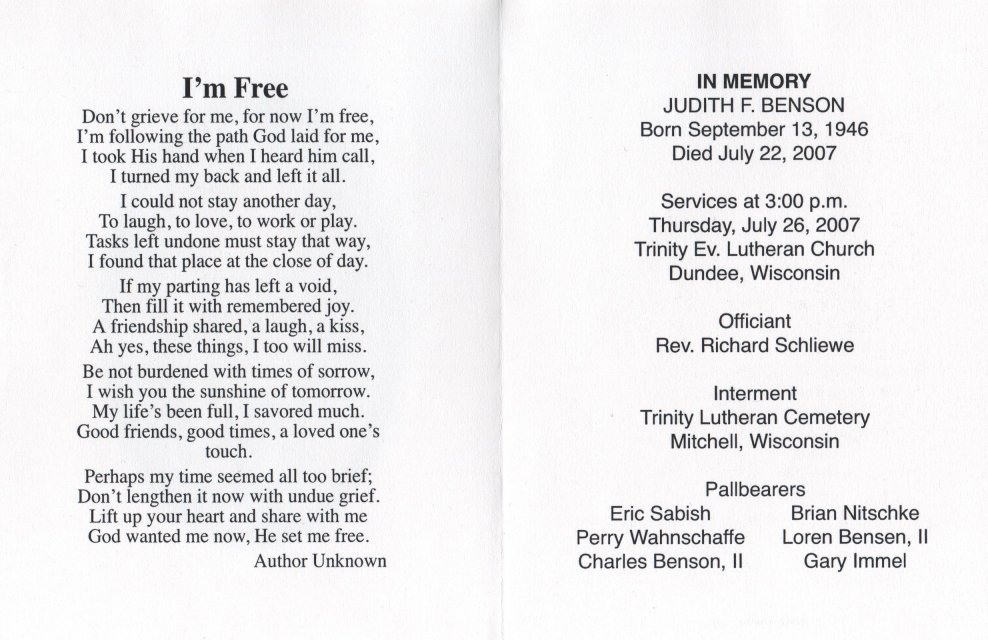 Service Bulletin: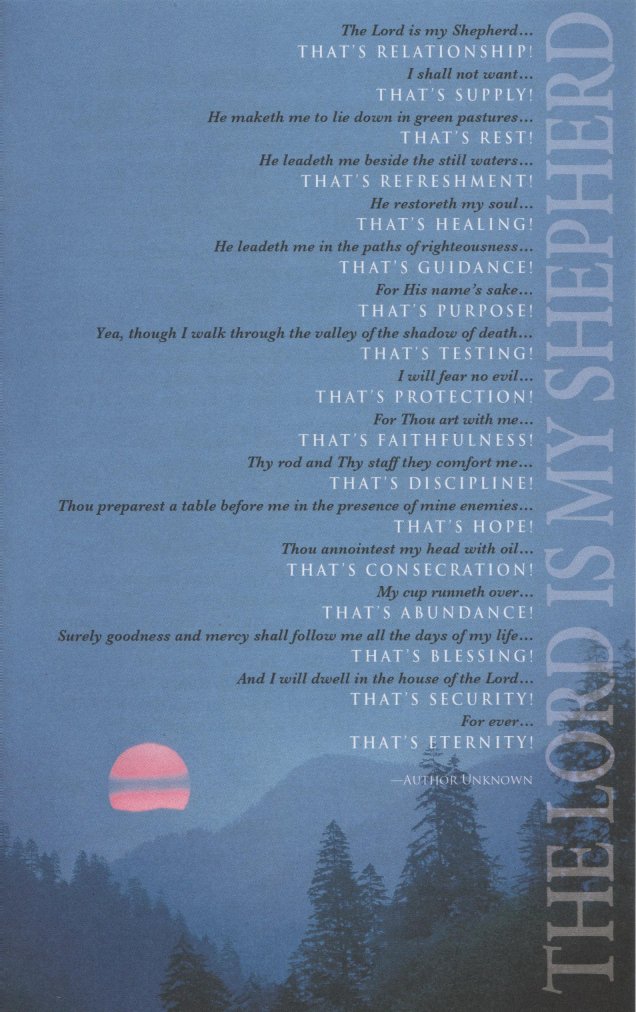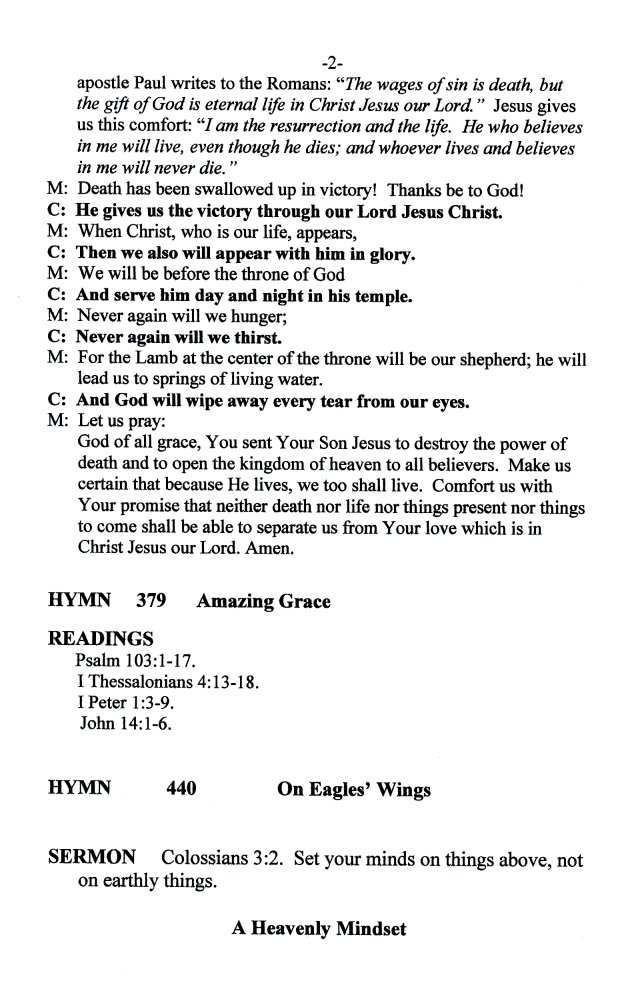 Note: During the sermon, the pastor noted that
The passage shown above, Colossians 3:2, was
also Judy's personal confirmation verse.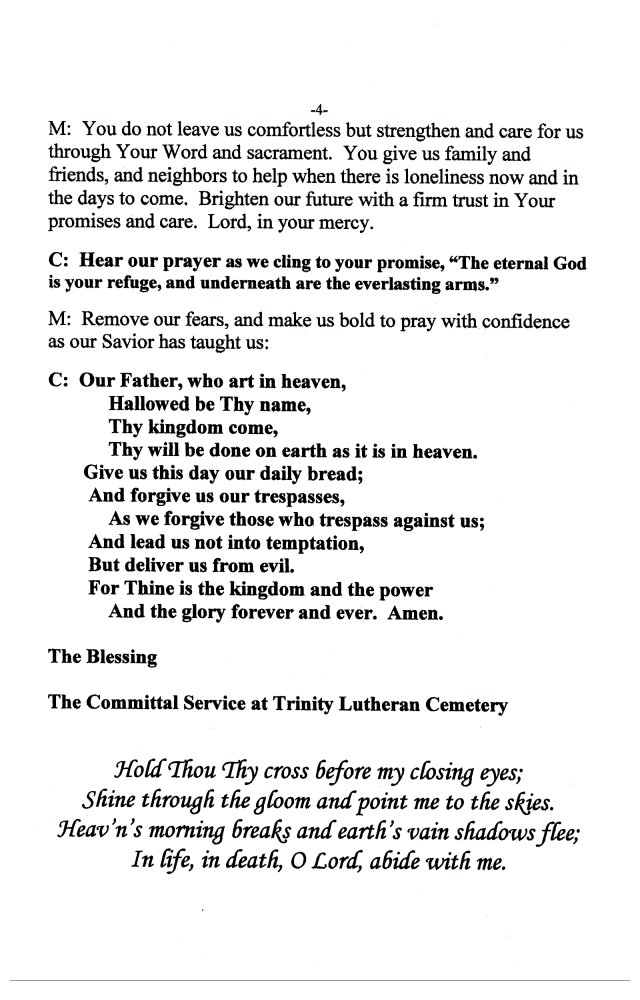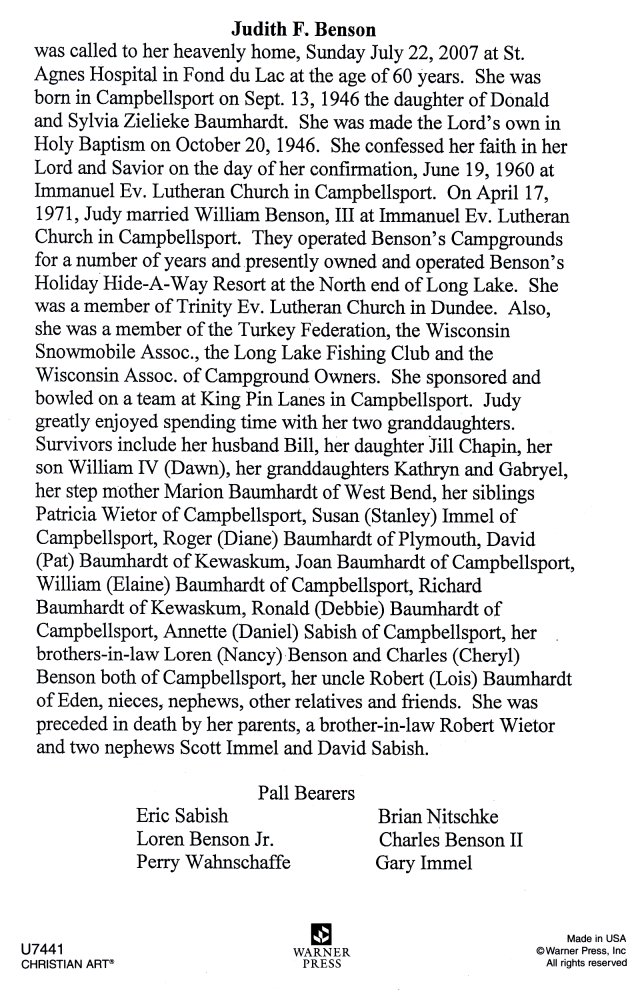 ---
The Lightside UFO Study Group
www.TheLightside.org