Introducing Bonnie Meyer
My name is Bonnie. I was first introduced to UFOs in my early 30's. A friend of mine got into UFOs so heavy that I began to wonder if she was losing her mind. Wanting to find out what they were feeding my friend, I went to every lecture and meeting in the area on the subject. Trying my hardest to figure out if UFOs were real or not. Little did I realize that UFOs would be become a lifelong passion for me.
Books became my friends. I began to read books on New Age and the paranormal subject. Trying to find the truth for myself was not always easy. I never have been willing to settle for one persons' opinion on any topic. I always searched the material I found, looking for a correlation in the material so I could find the truth. It was about this point in time that I saw what we refer to as high flyers. These bright lights in the sky would move erratically, change directions make no noise and could not be explained away as either airplane or satellite.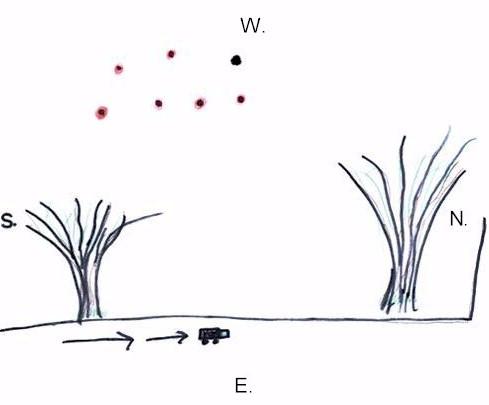 It was after seeing these lights that I became a night person sometimes staying out until 4:00a.m. I often chased bright lights in the sky by car. Many, many times I was disappointed, when the lights turned out to be radio and TV towers.
On the July 4th weekend of 1976, there were approximately two and a half hours of time that could not be accounted for. Many abduction books talked of missing time, and they used hypnosis as a tool for retrieving what happened during this period of time. I began to wonder if something could have happened to me. Having little money, and wanting an answer, I checked to see if there were any hypnotists in the area who would be willing to do it for free. Sadly I have to say there were none.
One woman, who came to our meetings, said she knew of a psychologist in Milwaukee, Wisconsin who might be interested in doing the hypnosis although he was not into UFOs. He is a licensed psychotherapist who uses hypnosis to treat his patients. He agreed to do the hypnosis for free. The only problem being his practice was in Milwaukee and it was an hour and half drive one way. For approximately three years at least twice a month the drive was made. During these hypnosis sessions it came out that indeed an encounter had taken place, not once, but several times. It seems that not only did I encounter ships but interacted with the extraterrestrials on board the crafts. This seemed to open the door for me because after the hypnosis sessions started, I was able to remember more and more of the encounters. It seems that I was often taken on board a craft and taught lessons. It was frustrating to remember some of the encounters, but not everything that happened in great detail. I remember asking the ET's why I could not remember more? The ET's explained that in time I would be able to remember more. A young woman who lived in Fond du Lac, Wisconsin was channeling an entity that called himself Anon. My curiosity was piqued and I had to see what was happening. The entity Anon came through the young woman and told me that I would become a channeler. I laughed and said "No way!"
There was no way I wanted to be a channeler. The only channelers I had seen or heard of were not what I believed to be true channelers. Messages from the ET's then began to be given to me in my head. The only way I can explain it is: it was like a ticker tape was being played across my forehead from the inside and I could read it. Over the years many things have been revealed to me. The ET's talked of how they were here to help planet Earth during the troubled times that were ahead.
The ET's also talked about their God, who it seems, is also our God. They talked of Jesus being a great teacher and how some planets have beings that come to help during periods of trouble. There was no way I wanted to get involved in religion, no way! Not being raised in a church, I did not want to become involved in any religion at this point in my life. The ET's were very patient with me and explained that a spiritual person is one who tries at all times to love his fellow man and live the laws of both God and man.
The telephone rang one day and to my surprise it was my hypnotist. He asked, "Would you like to do a firewalk?" My answer was "no" and we talked for awhile and hung up. As I walked away from the phone I thought, "Why did I say no?" I often saw firewalking on TV and wondered if I could accomplish it. I immediately called him back and said, "Yes, I want to do it!" I did five firewalks in all; four of those were as an assistant. My job was catching the people at the end of their walk or hosing down their feet so they would not burn. Through these experiences, I learned to believe in myself. Learning that I could call on God and myself to do all that is necessary to protect both body and soul in times of need. My future is in my hands and I am the only one who is totally responsible for my thoughts and actions. No more blaming anyone else for my actions or mistakes.
I have been misquoted many times in newspapers, TV programs, and books and sometimes even by friends. This caused me to become a more private person. I used this time to become stronger in my faith and figure out which direction I wanted to proceed with the knowledge that seemed to be accumulating. During this time I made the decision that I wanted God to be a big part of everything I did.
Through the years there have been different groups and people with whom I have studied. Some of the people did not walk their talk of spirituality or truthfulness. So again and again I had to search for people who believed as I did. I often cried at losing these friends, and felt a giant void was left in my soul. So again and again I searched for like-minded people. I never gave up, always searching for what was right for me. I can honestly say I came into this field kicking and screaming. The things that I said I would never believe in (UFOs and Aliens) are now the things that I believe in the most. Many times I have changed by beliefs as I learned more and more about UFO's and Aliens.
Read more about Bonnie's experiences for free using Google Books. Just click on a cover image to get started!
Online Articles and Images by Bonnie
Here are some articles written by Bonnie along with links to pictures she has provided to document some of her experiences with UFOs and alien beings.
Book Excerpts from Lea's Perspective
The
Lea's Perspective
section of the
EARS website
features a number of excerpts from Bonnie's books. These are quotes from the alien Lea that generally relate to Biblical topics.
Additional commentary from Lea that can be found
in the book "Alien Contact" by Bonnie Meyer

Lea's story as told in the book Alien Contact

Additional commentary from Lea that can be found
in the book "Unholy Alliance" by Bonnie Meyer